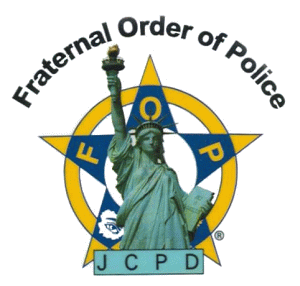 New Merchandise
Police Officers Only
Jersey City Lodge 4 has the following
items for sale. Please contact
Det. Dennis DeStefano
for purchasing and information.
201 376-2321(cell)
Associate Members Only
If you are an Associate Member looking for merchandise
please contact Fred Paparteys on the
Associates Members page.
Associate Members

Click on thumbnail for larger picture of item


                 Jersey City Model Police car encased in an acrylic case on a black wood base. Hood and doors open. Police Car is metal die cast approximatly 3" wide and 8" long.
Priced at $30.00.

 
---


       This is a awesome Jersey City FOP challenge coin. This beautifully crafted coin is a perfect gift to show your appreciation to a law enforcement officer or to simply add this to your collection. Great for coin trading. Texture, raised letters, & epoxy coating was added for extra protection and beauty.
Priced at $10.00 each.

 
---



Better quality black leather key chains with black bag, available in two varieties:
Miniature gold metal JC Detective shield or a Miniature silver JC Police Officer's shield.
Priced at $7.00 each.
---

       Associate Members License Plate Holder
      Priced at $10.00 each.