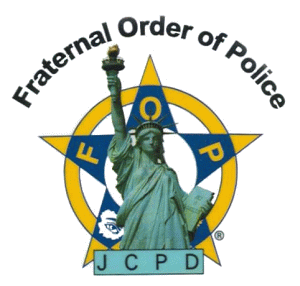 Merchandise

Police Officers Only
Jersey City Lodge 4 has the following
items for sale. Please contact
Det. Dennis DeStefano
for purchasing and information.
201 376-2321(cell)
Associate Members Only
If you are an Associate Member looking for merchandise
please contact Fred Paparteys on the
Associates Members page.
Associate Members

Click on thumbnail for larger picture of item

White coffee cup with JC FOP emblem with large handle.
Priced at $8.00 each.

 
---

18kt gold plated metal Fraternal Order of Police - Jersey City Lodge # 4 "Family member" identification cards. Family member's name and Officer's name and rank engraved on each individual card.
Priced at $15.00 each.

 
---

New, better quality black leather Family Member ID wallets. Ideal for gold card and/or identification cards. Choice of miniature Sergeant, Detective, or Police Officer etching on outside and miniture shield inside.

Priced at $20.00 each.
---



Pins - available in four varieties:

JC FOP and Statue of Liberty design on black colored face
Miniature JC Detective shield pin
Shamrock pin with JC patch in gold color inside center of shamrock
JC PD pin with blue and red bars outlined in gold color
    All pins are priced at $3.00 each

 
---

    JCPD Cuff Links. Nice looking and elegant at the same time.

Priced at $3.00 each ($6.00 a set)

 
---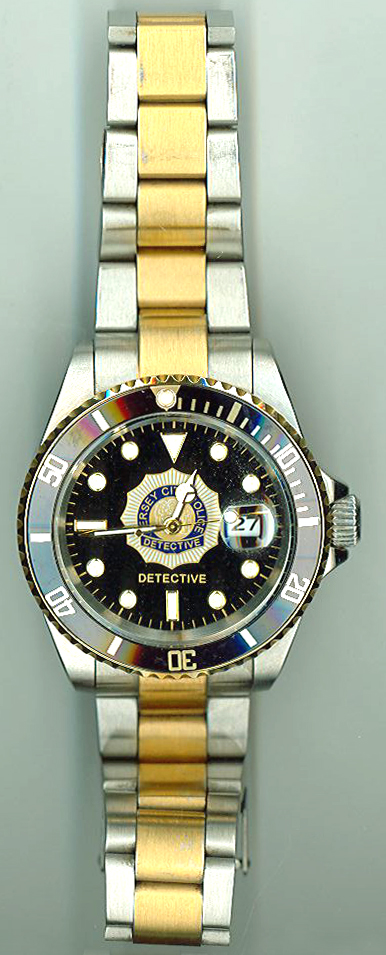 Men's heavy duty wrist watch:
Stainless Steel
5 Year Warranty
Self Winding
Choice - JCPD Logo (Black Bezel) or FOP Logo (Gold Bezel)
Water Proof
Night illumination on hour symbols
Watches come in four different varieties:

Jersey City FOP Logo and Statue of Liberty design on black colored face
Jersey City Police shoulder patch logo on pearl colored face
Jersey City Police Detective logo on black colored face
Commemorative issue - 150th anniversary 1856-2006. 150 have been individually numbered and engraved. Has the Jersey City shoulder patch logo
Matching metal watch bands have seven (7) easily removable links for individual sized wrists. Watches overall appearance is identical to a man's "Rolex" Oyster perpetual-date wristwatch.

priced at $60.00 each.

 
---
Men or ladies short sleeve golf shirts. Shirts are available in two colors, Navy Blue and Grey. Sizes available: M, L, XL, and XXL. Shirts come in three logos:




Embroidered with a gold JC Detective shield
Embroidered with FOP and statue of liberty design (multi- colors)
Embroidered with white lettering - "JCPD"
All shirts have neck tag removed to avoid irritation and nuisance, are a soft cotton and Polyester blend, and machine washable.
All shirts priced at $15.00 each.

 
---

Navy Blue, ultra light and waterproof garment bags. Perfect for traveling or storage of uniforms, suits, shirts, or other expensive clothing. Garment bags are silk-screened with a large JC FOP logo. Jersey City Lodge #4 printed below the logo.

Priced at $7.00 each.

 
---


Navy Blue Baseball Caps - 100% pure cotton, velcro adjustable band to fit as you like, embroidered FOP logo with embroidered JCPD lettering. Rim has stars and stripes across front. Embroidered JCPD on back of cap.

Priced at $12.00.
---

Mouse Pads - FOP and Jersey City PD computer mouse pads

Priced at $5.00.